I like big mouse mats and I can not lie, you other brothers can't deny… that the mouse mat maketh the man, or at the very least his aim.
By this point it should be obvious that today we're doing a mouse mat review, but not just any mouse mat. Today I'll be reviewing the Razer Gigantus. As a gamer, I'll assume you've at least heard of Razer. In the event that you haven't, they're one of the leading gaming peripheral companies out there and are on the high end of the price spectrum.
I've been a long time fan of Razer and have been using their Ouroboros mouse and a Goliathus control mat for about a year. I liked my Goliathus, but it was the medium sized (35cm x 25cm) mat and it always felt a bit too small for my liking. This is largely due to the fact that I'm one of those special people that goes a bit wild when gaming. We're talking full, bold movements, like a lumberjack rather than a sushi chef. As such, I need space. Precious, precious space.
Enter the Gigantus. While I sound like a teenage boy that's recently decided to name his favourite body part, I'm talking about the mouse mat here. Promise.

The Gigantus measures up to a generous 45cmx45cm, is a comformtable 5mm thick and is one of the largest mats that Razer makes. On the box, Razer states that more space = more wins, which I really hope is the case. I could use a few more PUBG wins. Outside of the sheer size, the mat sports a textured weave that falls in the middle of their control/speed mats, has a rubber non slip base and has anti-fray stitching.
Looks
Out of the box, the mouse mat is pretty understated when compared to many of their other mats, like the Goliathus Control I used before. Almost underwhelmingly so, with none of the bright colours and fancy graphics of the days gone by with my Fissure mat. The top of the mouse mat and the side stitching are solid black, with a raised green Razer logo in the corner. The bottom of the mat is green and has grippy rubber nibs, but you're never going to see that, so it's irrelevant. Now that I've spent some time with the mat, I really like the understated looks. It's minimalist and matches my setup well, so I don't think I'll be going back to a graphic/logo laden mouse mat again. The only drawback I've encountered is that because the mat is dark black and has a satin like finish, it shows dirt quite easily, but that's nothing that a quick shake won't fix. Shake it off, shake it off.

Quality
This is a premium mouse mat, so I was expecting it to be well made and in short, it is. The material on the top of the mouse mat seems well made and feels great to the touch. The logo is well done and adds a nice contrast to the solid black surface. In truth, the only area where they really could go wrong is the stitching around the edges and this too seems top notch, as you can see from the pictures below. I used my Goliathus mat for a year and it showed no signs of wear and tear and this mat seems to be cut from the same cloth.


Performance / Experience
Having come from the control mat, the first thing that hit me was how nice this mat feels under hand. The weave they've used isn't as smooth as their speed mats, but it's nowhere near as rough as the control mats. It's a silky middle ground that makes me want to do broad sweeping motions with my mouse. Enter the lumberjack. Add to that the fact that the size of this mat actually allows me to do said motions… Gigantus 2 points, Goliathus 0. At no point have I run out of real estate since using this mat. Be warned though, it's a large mat and you'll want to make sure it's going to fit your desk.
I'm a very enthusiastic gamer, but I'm not even going to pretend to be any good. My limited ability aside, the performance from the mat has exceeded any expectation I had when I bought it. Firstly, sticks to the table like fat kid to a cupcake, which is expected, but important. The mouse glides across the mat with ease, but never to the point that it slides uncontrollably. There's also enough resistance to allow pinpoint accuracy in small movements. When I used the control mat, my mouse would sometimes snag on the weave of the mat, which would drive me nuts as it would usually result in me missing a critical shot. This doesn't happen at all with this mat, so another win for the Gigantus. In my use, I've not experienced any skipping or inaccuracies, so on that front, it's pinpoint accurate and 100% reliable when paired with my Razer mouse.
When it comes to potential downsides of the experience, many people don't like the raised logo on this mat. While it's not the most practical, you can see where it is in my setup and there's no way I'm ever going to bump the logo with my mouse, so it doesn't really bother me. The only thing I can really complain about is the smell. In the first few days of using this mat, it had a strong chemical smell and left my hand smelling like burnt tyres, which really isn't ideal. After a week, the smell is almost gone, but I wish it wasn't there to begin with.

Value for Money / Alternatives
Razer and other top end mouse mats aren't cheap, but for me, the cost is justified because it's important to have a large, comfortable area to flail my mouse around in. My choice of mat was largely be driven by size, brand, and looks, and the decision came down to either a large square mouse mat or an extended mat. I liked the look of the extended mats, but figured I'd get more mouse space with the Gigantus style mat. If you end up deciding on a similar mat, there are only three similar mats out there to choose from.
First up is the Gigantus which you already know a bit about by now, at $30. Next is the slightly cheaper Steelseries QCK heavy at $25 and lastly we have the more expensive Logitech G640 at $40. In terms of size, both the QCK and the G640 are slightly smaller than the Gigantus, measuring up at 40cmx45cm and 40cmx46cm respectively. When it comes to thickness, the QCK is slightly thicker at 6mm and the G640 is thinner at 3mm.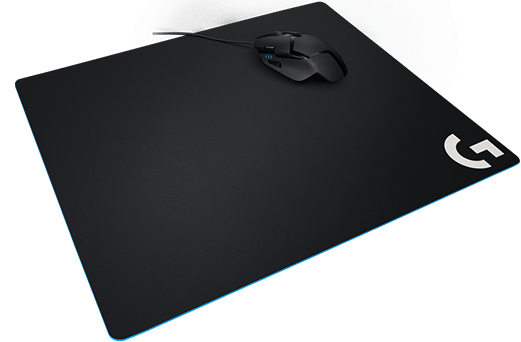 The fact that I am using a Razer mouse definitely factored into my decision to get the Gigantus, but beyond that, the looks and size, not to mention my good experience with the durability of the Goliathus, meant that it beat out the competition to take up a large chunk of my desk.
TL;DR
When I'm deciding on a mouse mat, I care about the looks, size, durability and last but definitely not least, a smooth user experience. On all fronts, the Gigantus has delivered. I'd say that it's one of, if not the best cloth mouse mat you can get and I don't think I'll be changing mats till Razer brings out a 90cm x 60cm version. After all, more space = more wins, right Razer?
People who read this article also read: